Sharon Standing On The Bridge Across Our Stream

Frugal tips techniques and help. Money saving ideas.
This Page Sponsored by Mac-n-Stuff at http://www.macnstuff.com Used Macintosh computers, monitors and peripherals.
*******************************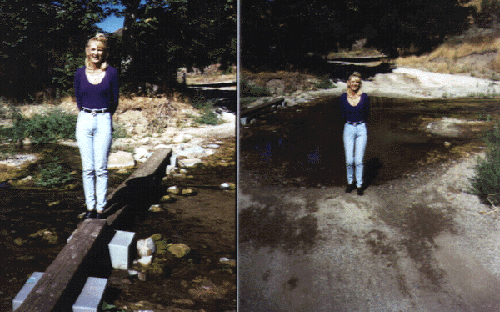 The left picture is Sharon standing on one of the 20 foot planks we use to cross our straeam. In the right picture the dark area behind Sharon is the pool a water our steam forms where we drive across. The pool is about 6 to 8 inches deep and about 40 feet across. In a bad storm, you can't drive across the stream, and the foot bridge is not there.
We have a steel cable running across the steam and a cart on the cable we use to pulley ourselve across the steam when it gets to deep to cross.
*******************************


This is how to get ahold of us


bob1811@macnstuff.com
Visit us often for your used Macintosh computers and used Apple monitors.
We're here to serve the used equipment market. http://www.macnstuff.com